Bonus £40 e‑Voucher with any Araucaria
Flow Hive or Super
Bonus £40 e‑Voucher with any Araucaria
Flow Hive or Super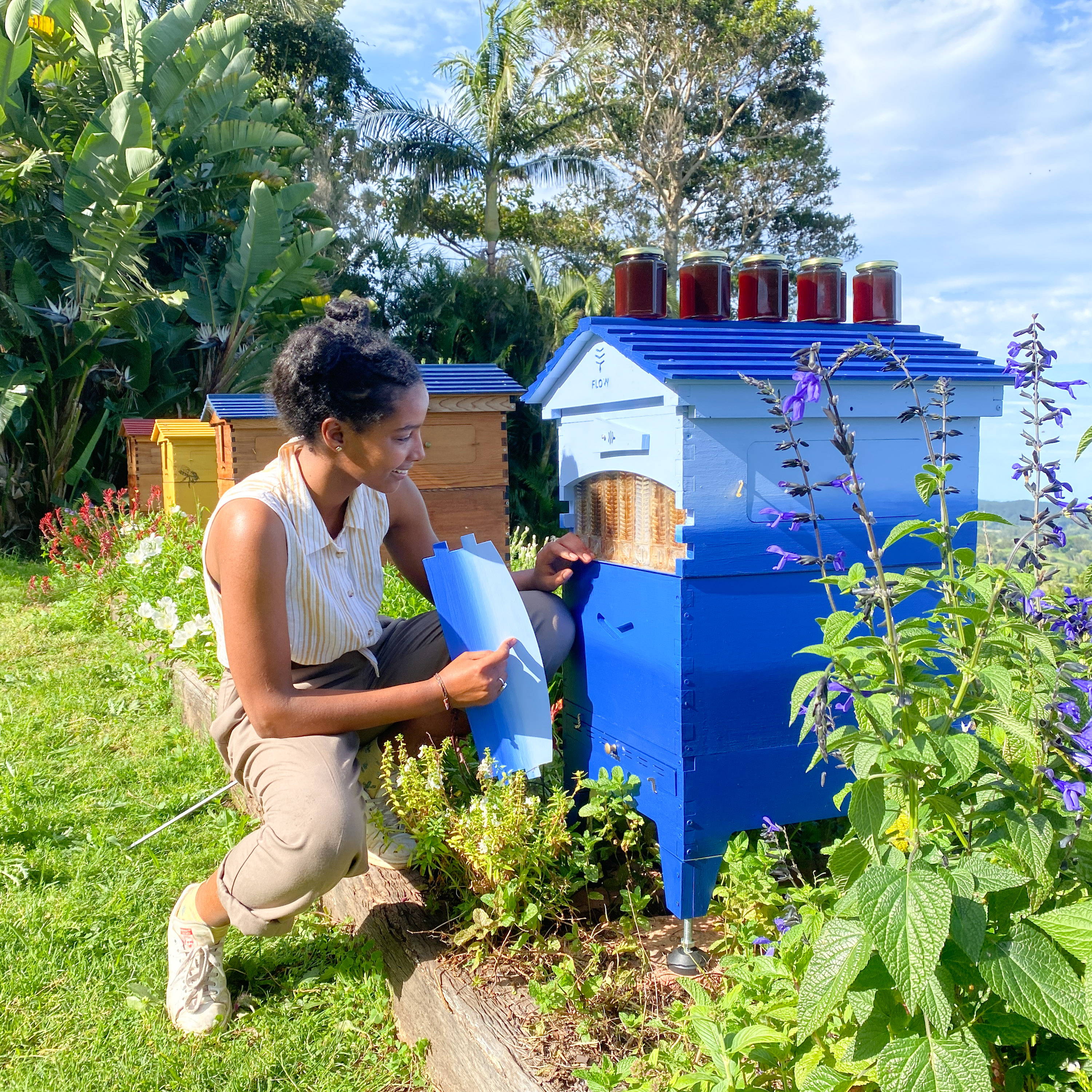 Flow Hive 2 Starter Bundle

Everything you need to get started
Ready to experience the magic of harvesting honey straight from the hive?
Featuring our best-selling Flow Hive 2 in Araucaria with adjustable hive stand, in your choice of 6 or 7 frames, your bundle also includes an organic cotton bee suit, stainless steel smoker, goatskin gloves, J‑hive tool, Flow veil PLUS a sweet saving.

+BONUS: For two weeks only get a £40 e‑Voucher*
6 Frame: was £881 NOW £794 
7 Frame: was £931 NOW £838
BONUS £40

Flow e-Voucher
Special bonus offer! Receive a £40 Flow e‑Voucher* with any full‑priced Araucaria Flow Hive or Super, or our Starter Bundle, purchased between June 15 and June 30, 2022.
Grow your own apiary or gift to a friend – e‑Vouchers will be emailed during the first week of July.
Offer ends midnight June 30 2022.
Make it your own
A first‑class softwood with very few growth rings, knots or prominent grain, Araucaria is easy to paint and makes the perfect canvas for your most creative hive designs!
Why we love Australian-grown Araucaria


Araucaria is grown here in our own backyard then manufactured locally, which means our Araucaria products have a low carbon footprint.
Sustainably grown and harvested
As the only successful Australian native timber to be grown in large‑scale commercial plantations, Araucaria can be sustainably harvested.
A first‑class softwood with very few growth rings, knots or prominent grain, Araucaria is easy to paint and makes the perfect canvas for your most creative hive designs!
Sourced from PEFC and AFS‑certified plantations, our Araucaria timber is produced in line with the highest ecological, social and ethical standards and can be traced back to its source.
I'm new to beekeeping, is this right for me?
Beekeeping is a fascinating and rewarding hobby, where the discoveries are endless. Plus the honey really is an amazing bonus!
If you're just getting started, we're here to help – our friendly support team is on hand via email, phone, or live chat to get fast answers to your buzzing questions.
Or if you'd rather go straight to the top, join Cedar, our co-inventor, every week for a special live stream on Facebook and Youtube, where you'll have the opportunity to ask him your questions live!
We'll support you every step of the way with a swarm of educational resources to ensure your beekeeping journey will be an enjoyable one.
Ready to take the first step? Learn beekeeping terminology – from queen excluders, to drone bees and all the parts of a beehive – by downloading our simple PDF guide to beekeeping to start your journey today.
*Where can I use my Flow e-Voucher?
(terms and conditions)
The Flow e-Voucher can be redeemed on your next purchase from www.honeyflow.com
Your e-Voucher is single-use only and is valid until September 30, 2022, with no minimum purchase price.
Not valid for use on already discounted products, bundles, brood boxes, pollinator houses, gift cards, shipping and spares. Cannot be used in conjunction with other offers or codes.
E-Vouchers are transferable so you can share your love of beekeeping – simply share your unique code with a friend to gift it on.
Bee suits are designed to be worn slightly baggy over your normal clothing, so it's best to choose a slightly larger size than you would normally wear.
Be sure to give yourself plenty of room to move around with additional length for movement – ankles and wrists need to remain covered when you're crouching, bending or stretching.
You do not want the suit to be tight fitting – it's this loose fitting material that offers sting prevention.
If in doubt or between sizes, go up to the next size:
Height (cm)
Weight (kg)
50
56
62
68
74
80
86
92
98
104
110
145 - 150
2XS
2XS
XS
S
150 - 155
2XS
2XS
XS
S
S
M
M
M
155 - 160
2XS
2XS
XS
S
S
M
M
M
L
160 - 166
XS
XS
XS
S
M
M
M
L
XL
XL
166 - 171
XS
S
S
M
M
L
L
L
XL
XL
2XL
171 - 176
M
M
M
M
L
L
L
L
XL
2XL
2XL
176 - 181
L
L
L
L
L
L
XL
XL
2XL
2XL
3XL
181 - 186
L
L
L
L
XL
XL
XL
2XL
3XL
4XL
186 - 191
L
L
L
XL
XL
XL
2XL
3XL
4XL
5XL
191 - 197
XL
XL
XL
2XL
2XL
2XL
3XL
4XL
5XL
197 - 204
2XL
2XL
2XL
3XL
3XL
4XL
5XL
5XL
Height (feet)
Weight (lbs)
110
123
137
150
163
176
190
203
216
229
243
4'9" - 4'11"
2XS
2XS
XS
S
4'11" - 5'1"
2XS
2XS
XS
S
S
M
M
M
5'1" - 5'3"
2XS
2XS
XS
S
S
M
M
M
L
5'3" - 5'5"
XS
XS
XS
S
M
M
M
L
XL
XL
5'5" - 5'7"
XS
S
S
M
M
L
L
L
XL
XL
2XL
5'7" - 5'9"
M
M
M
M
L
L
L
L
XL
2XL
2XL
5'9" - 5'11"
L
L
L
L
L
L
XL
XL
2XL
2XL
3XL
5'11" - 6'1"
L
L
L
L
XL
XL
XL
2XL
3XL
4XL
6'1" - 6'3"
L
L
L
XL
XL
XL
2XL
3XL
4XL
5XL
6'3" - 6'5"
XL
XL
XL
2XL
2XL
2XL
3XL
4XL
5XL
6'5" - 6' 7"
2XL
2XL
2XL
3XL
3XL
4XL
5XL
5XL
Should I choose a 6 or a 7 frame hive?

6 Frame Flow Hives – compatible with 8 frame Langstroth hives – are a popular choice all over the world. They are a user-friendly size and aren't too heavy for hive inspections.
Our 7 Frame Flow Hives – compatible with 10 frame Langstroth equipment – are an extremely popular size in cold climates and with beekeepers who prefer to have an extra two frames for their colony in the brood box.
Having an additional Flow Frame in your super is a bonus for collecting more delicious Flow harvested honey!
Not sure which model is best for you? Check out this video
Bees rarely find their way into empty beehive boxes, even though they are designed to be a perfect home for them.
There are a number of ways of starting a colony, from buying a package of bees, to receiving a hive split or catching a swarm.
We also have a range of videos and blogs to help you understand the different ways in which you can source bees for your new hive.
Araucaria (Araucaria Cunninghamii) or Hoop Pine – a premium Australian native cabinet timber highly regarded for its stability and durability. Our Araucaria is sustainably harvested from timber plantations. Araucaria is a first-class softwood with very few growth rings, knots or prominent grain, and is not to be confused with lower quality Radiata Pine, which is far softer, has knots and rots easily.
- Highly durable with a fine, even grain which is warp resistant
- Australian native softwood timber
- Sustainably harvested
- Varies in colour from white to cream or light brown
- The perfect canvas to create your own personalised hive design
- Requires two coats of weatherproof exterior house paint
I have a small yard or rooftop, can I still have a hive?
Yes! Flow Hives are perfect for setting-up just about anywhere.
You will need enough space to access the back of the hive for easy harvesting and your bees will require a clear space at the front of the hive for their flight path.
You'll also need to check-in with local governing bodies to find out if there are any regulations that you need to be aware of.
Here are some of our top tips on where to set up your beehive.
Is beekeeping a good family activity?
Yes! Getting set up with a Flow Hive is a great interactive family activity as our revolutionary honey harvesting technology removes the need for additional harvesting equipment, making this enjoyable hobby much more accessible.
Harvesting honey together as a family is an incredible experience and enough to entice all members of your family to learn about bees which are completely fascinating! Don't be surprised if you find yourself with extra hands on deck to help out with brood inspections ;)
Make sure you have some extra suits on hand – we have protective wear in all sizes to accommodate all members of the family.
Still have questions? We'd love to hear from you.
Does the Flow Hive work in extreme temperatures?
Yes! The Flow Hive is successfully in use in all climates wherever beekeeping is possible, from the hot Australian summers to the cold Canadian or European winters.
Is there any safety information I need to be aware of?
Beekeeping is a fascinating hobby which when approached with knowledge, skill and dedication can be incredibly rewarding.
It is important to understand some basic safety guidelines to ensure that your beekeeping experience is a safe and positive one.
Beekeeping suits and other personal protective equipment can offer excellent prevention against bee stings but are not 100 percent effective. It's important new beekeepers exercise caution when tending to their hives and are comfortable with the fact that sooner or later, all beekeepers get stung.
Check out this Flow sponsored safety pamphlet covering common beekeeping safety risks and first aid responses.
Our customers love the
Flow Hive 2
Over 700 5-star reviews